Image brings us John Carpenter's Assault On Precinct 13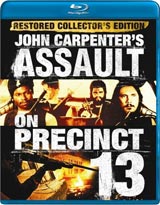 Image Entertainment has just added John Carpenter's cult hit Assault On Precinct 13 to their release schedule on DVD and Blu-Ray Disc, offering the film up in a Restored Special Edition.
In this unrelenting action masterpiece from director John Carpenter (Halloween, Escape from New York), a police station under siege from a vicious street gang becomes a cataclysmic battleground where only the strongest survive! Inspired by Howard Hawks' immortal western, "Rio Bravo," this explosive gem from one of cinema's great frightmasters has been newly restored.
The DVD version of the film will feature an anamorphic widescreen transfer of the movie with the film's original Dolby Digital mono audio track. As extras you will find a Commentary Track by John Carpenter on the disc, as well as the movie's Isolated Score. Further, the disc will come with an Interview featuring John Carpenter and actor Austin Stoker. A Production Gallery and a variety of Trailers and Radio Spots will round out the disc.
The Blu-Ray version of the film will feature a 1080p high definition transfer, complemented also by the movie's original mono audio track. The disc will include the same extras as the DVD version.
The "Assault On Precinct 13" will take place on February 3 for $29.98 on Blu-Ray, and $19.98 on DVD.