Genius Products goes to Eden Lake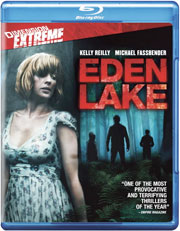 Genius Products will release the independent horror film Eden Lake as part of their Dimension Extreme label in January on DVD and Blu-Ray Disc.
Like a bad dream turned worst nightmare, Eden Lake is a tense horror-thriller about modern youth gone wild. When a young couple goes to a remote wooded lake for a romantic getaway, their quiet weekend is shattered by an aggressive group of local kids. Rowdiness quickly turns to rage as the teens terrorize the couple in unimaginable ways, and a weekend outing becomes a bloody battle for survival.
No exact details or technical specs have been announced for the release yet, but the film will be in stores on January 6 and can be yours to own for $19.95 on DVD and $29.95 on Blu-Ray.