Fox brings us the Definitive Edition of The Passion Of The Christ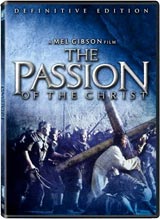 20th Century Fox Home Entertainment has added a DVD and Blu-Ray version of Mel Gibson's controversial The Passion Of The Christ to their release line-up in February.
The Passion of the Christ focuses on the last twelve hours of Jesus of Nazareth's life. The film begins in the Garden of Olives where Jesus has gone to pray after the Last Supper. Jesus must resist the temptations of Satan. Betrayed by Judas Iscariot, Jesus is then arrested and taken within the city walls of Jerusalem where leaders of the Pharisees confront him with accusations of blasphemy…
Coming as a 2-disc Definitive Edition, the DVD version will feature a widescreen transfer of the film with Dolby Digital audio. Packed with bonus materials you will also find a Director's Cut of the movie on the disc, as well as a Commentary Trackby Mel Gibson, Caleb Deschanel, and John Wright on the theatrical. Also included is a Production Commentary Track with Stephen McEveety, Ted Rae and Keith Vanderlaan on the theatrical cut also. A Theologian Commentary Track is also included for the theatrical cut, featuring Mel Gibson, Father William J. Fulco, Gerry Matatics, and Father John Bartunek. A Music Commentary with John Debney is also included as well as a selection of Deleted Scenes. Also look for the Making-Of Featurette "By His Wounds We Are Healed" and a look at "The Legacy." The release is rounded out by Photo Galleries.
The Blu-Ray version of the movie will also come on 2 discs, the first one offering up the two cuts of the film in 1080p high definition, complemented by the original Hebrew language track in DTS 5.1 HD Master Audio format. You will also find all the extras from the DVD version on this release, as well as an additional featurette called Passion Recut and Footnotes.
"The Passion Of The Christ" will arrive in this "Definitive Edition" on DVD on January 30 for $26.98. The Blu-Ray version will arrive two weeks later on February 17 for $34.99.