Bruce Campbell fans rejoice – My Name Is Bruce is on the way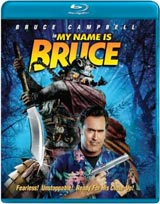 Dealing in many cult classics and icons, Image Entertainment has just added another gem to their release line-up, offering up Bruce Campbell in his very own feature film My Name Is Bruce on DVD and Blu-Ray Disc in February.
Something evil is stirring in the small mining town of Gold Lick, and it's not happy. Guan-di, the Chinese protector of the dead with a strange affinity for bean curd, has been awakened by reckless teenagers, and now his bloody crusade to wipe out the town's entire population can only be stopped by one man – Bruce Campbell (the guy who starred in all three Evil Dead movies and Bubba Ho-tep), B-move star and deadbeat ex-husband extraordinaire, who's recruited to be their unwitting savior. Thinking the whole scenario's a publicity prank, Bruce is distracted from his mission by a hot mom and fan boys aplenty– but when our hero has to face off against a dark force more fearsome than a Hollywood agent, the laughs and screams start flying!
Featuring an anamorphic widescreen transfer and Dolby Digital 5.1 audio, the DVD version of "My Name Is Bruce" will also be loaded with extras. First up is a Commentary Trackwith Bruce Campbell and Mike Richardson. In addition, the release will feature a series of Featurettes on a variety of topics, such as "Heart Of Dorkness," "Awkward Moments With 'Kif'," "Bruce On…," "Beyond Inside The Cave: The Making Of 'Cavealien 2'," "'Kif's' Korner," "The Hard Truth," and "Love Birds." Then there will be a large Photo Gallery with Poster Art, Props Art and general Photos. Also look for Trailers and some Easter Eggs on the disc.
The Blu-Ray version will dish out a 1080p high definition transfer and soup it up with a DTS 5.1 HD Master Audio track. All the extras from the DVD version will be included here also, of course.
If you're a fan of Bruce Campbell and his irreverent sense of humor – and who doesn't? – make sure to set aside $27.98 for the DVD version and $35.98 for the Blu-Ray version that will come to stores on February 10.