Anchor Bay schedules Traitor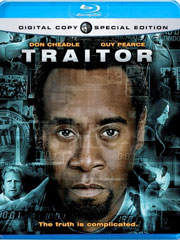 Anchor Bay Entertainment has added the spy thriller Traitor to their line-up, scheduling the movie for release on DVD and Blu-Ray Disc this December.
When straight-arrow FBI agent Roy Clayton (Guy Pearce) investigates a dangerous international conspiracy responsible for a prison break in Yemen, a bombing in Nice and a raid in London, all clues seem to lead back to former U.S. Special Operations officer, Samir Horn (Don Cheadle). But a tangle of contradictory evidence emerges, forcing Clayton to question whether his suspect is a disaffected former military operative — or something far more complicated. Obsessed with discovering the truth, Clayton tracks Horn across the globe as the elusive ex-soldier burrows deeper and deeper into a world of shadows and intrigue.
The release features an anamorphic widescreen transfer with Dolby Digital audio. As extras you will find a Commentary Track with writer/director Jeffrey Nachmanoff and Don Cheadle, as well as two Featurettes. One of them will cover the movie's stunts and special effects, while the other one will take a look at international espionage. In addition, the release will also contain a Digital Copy of the movie for playback on portable devices.
"Traitor" can be seen on December 19