Warner Home Video lets loose Moonlight:The Complete Series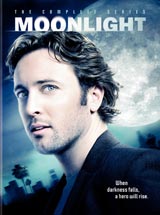 Warner Home Video has just added Moonlight: The Complete Series to their DVD release line-up, scheduling the TV show for release in January.
Any private eye knows a lot about other people's secrets. L.A. private eye Mick St. John (Alex O'Loughlin) has a secret of his own. He's a vampire, dwelling in a covert netherworld complicated by friendship with an undead finance honcho (Jason Dohring), memories of the alluring ex-wife (Shannyn Sossamon) who turned him into a vampire, and a relationship with a human (Sophia Myles) he feels drawn to protect – and maybe to love. But no matter how tempting, Mick knows a vampire-human romance is eternally dangerous.
The 4-disc DVD set will contain all 16 episodes that make up the show but will not contain an additional bonus materials.
"Moonlight: The Complete Series" will haunt DVD on January 20 for 39.98.