Walt Disney celebrates Oliver & Company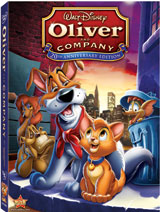 We just got detailed info about the upcoming 20th Anniversary of the Walt disney animated movie , b>Oliver & company, /b>, scheduled to appear on DVD in February.
Inspired by the classic Charles Dickens novel "Oliver Twist," the film boasts a lovable cast of characters and five infectious original songs from top-tier contemporary talents including Billy Joel, Bette Midler, Huey Lewis and Barry Manilow.
Disney presents an unforgettable musical adventure as Oliver, an adorable stray kitten (voiced by Joey Lawrence), takes Manhattan by storm! When Dodger (Billy Joel), a street-smart mutt with a weakness for mischief, befriends the homeless tabby, he introduces his new pal to his pack of pickpocket pooches, run by the nefarious Sykes (Robert Loggia). Just as Oliver is about to begin a life of crime, he is rescued by a rich girl named Jenny, who takes him home to live in luxury with her and her spoiled poodle Georgette (Bette Midler).
But when Sykes finds out about Oliver's new benefactor, he hatches a plot to abscond with the little girl and hold her for ransom. The courageous kitty and his newfound friends must race to the rescue in an electrifying chase through the city's labyrinthine subway system in order to bring Jenny home.
The release will feature an All-new Game as well as a number of behind-the-scenes Featurettes, such as "The Making Of Oliver & Company," "Puss Café," a delightful animated short starring Disney favorite Pluto and friends, "The History of Animals in Disney Films" and "Return of a Classic," offering a look at the 1996 theatrical re-release of "Oliver & Company." Also included is the animated short film "Lend A Paw," in which Pluto rescues a kitten and saves the day.
"Oliver & Company: 20th Anniversary Edition" will be in stores on February 3 for $29.99.