Vicky Cristina Barcelona is on target for January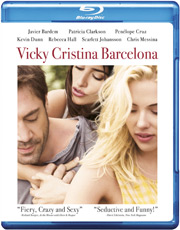 Genius Products has added Woody Allen's latest the romantic comedy Vicky Cristina Barcelona to their release schedule on DVD and Blu-Ray Disc for a January showing.
Oscar winner Javier Bardem, Oscar nominee Penelope Cruz and Golden Globe nominee Scarlett Johansson light up the stunning city of Barcelona in this sexy romantic comedy. Vicky and Cristina are two young Americans spending a summer in Spain, who meet a charming "Casanova" and his beautiful but volatile ex-wife. When they all become romantically entangled, the smoldering sparks begin to fly in hilarious fashion.
No extras have been announced for the title yet but we will keep you informed when new details come in.
January 27 for $34.99 on Blu-Ray and $29.99 on DVD.