Universal readies The Mummy: Tomb of The Dragon's Emperor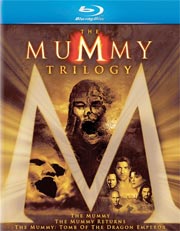 Universal Studios Home Entertainment has addedThe Mummy: Tomb of The Dragon's Emperorto their release line-up on Blu-Ray Disc for December.
This film marks the last time Rick O'Connell (Brendan Fraser) will fight Mummies as Alex O'Connell (Luke Ford) will now take over as lead adventurer for The Mummy franchise in future movies.
The release will feature a 1080p high definition transfer in the film's original 2.35:1 widescreen aspect ratio and complements it with a DTS 5.1 HD Master audio track. Loaded wit hextras and coming as a 2-disc set, the release ill contain bonus materials, such as a Commentary Track by director Rob Cohen, as well as a Visual Commentary by director Rob Cohen, Deleted Scenes and Picture-in-Picture Interviews and behind the scenes footage.
Also included is a Scene Explorer and Know Your Mummy as well as The Dragon Emperor's Challenge.
The Featurette "The Making of The Mummy: Tomb of The Dragon Emperor" will also be included as well as the featurettes "From City to Desert" and "Legacy of the Terra Cotta."
The second disc of the set will contain a Digital Copy of the movie as well as a number of additional Featurettes entitled "A Call to Action: The Casting Process," "Preparing for Battle with Brendan Fraser and Jet Li," "Jet Li: Crafting the Emperor Mummy" and "Creating New and Supernatural Worlds."
All bonus materials will be presented in high definition on the release.
"The Mummy: Tomb of The Dragon's Emperor" will arrive on Blu-Ray on December 16 and will carry a $39.99 sticker price. Alternatively, a set called The Mummy Trilogy will also be available, containing all three movies from the franchise, carrying a $59.99 price tag.