The Tudors:Season Two is on the way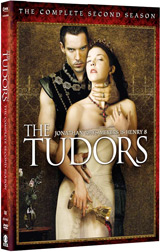 Paramount Home Entertainment and Showtime are preparing the release of The Tudors: The Complete Second Season for launch this December.
"The Tudors" presents the rarely dramatized, tumultuous early years of King Henry VIII's nearly 40 year, omnipotent reign (1509-1547). In addition to his famous female consorts and 20+ year marriage to Catherine of Aragon to the infamous dalliance with Anne Boleyn, the series delves in to Henry's most notable political relationship and the deconstruction of the Roman Catholic Church in England.
Arriving as a 4-disc DVD set, the release will offer more than 9 hours of historical drama and soap opera, in the show's original 1.78:1 widescreen presentation with Dolby Digital 5.1 audio.
Look for "The Tudors: The Complete Second Season on December 30 for $42.99.