Reba returns for Season 5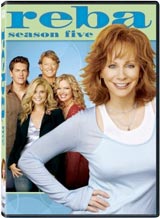 20th Century Fox Home Entertainment has just announced a DVD set of Reba: Season Five for release in January.
Returning with her hilarious "down-home" antics, Reba McEntire stars as a single suburban mom trying to juggle her career, family and relationships with pizzazz – but this time around, everyone has issues! While Cheyenne and Van struggle to save their rocky marriage, Brock is in danger of losing his home, and Barbara Jean is simply driving the rest of the family insane! And still, with a little tough love and a whole lot of determination, Reba manages to keep her extended brood together, proving that she really is a survivor in the hilariously heartfelt Season Five of "Reba."
In the fifth season of "Reba," the Hart family faces new trials and tribulations as Reba and son-in-law Van Montgomery (Steve Howey) decide to team up and work in real estate together. Just when she thinks money troubles are a thing of the past, Reba and her ex-husband Brock (Christopher Rich) are audited by the IRS for back taxes. Meanwhile Brock's wife Barbara Jean (Melissa Peterman) tries to sue Reba after spraining her ankle in the house Reba and Van rent to her.
Coming as a 2-disc DVD set the release will contain all 19 Season Five episodes in their original fullframe aspect ratio. No extras will be included on the release.
"Reba: Season Five" can make it to your home on January 13 for $29.99.