Paramount gets romantic with Ghost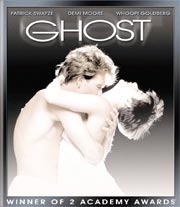 Paramount Home Entertainment has added a Blu-Ray version of the romantic thriller Ghost to their line-up for December.
One of the most memorable romantic films ever and winner of two Academy Awards®, Sam (Patrick Swayze, living as a ghost, discovers his death wasn't just a random robbery gone bad. To help him reconnect with the love of his life, Molly (Demi Moore), and solve his murder, he enlists he talents of a skeptical psychic (Oscar®-winner Whoopi Goldberg), who doesn't even believe her own abilities. Ghost is a supernatural mystery-thriller that will cross over into your heart and never leave.
Featuring a 1080p high definition transfer the release will also offer up a Dolby Digital 5.1 TrueHD audio track as well as a number of cool extras, including a Commentary Track by Director Jerry Zucker and Writer Bruce Joel Rubin.Also included are the Featurettes "Ghost Stories: The Making of a Classic," "Inside the Paranormal," "Alchemy of a Love Scene," and "Cinema's Great Romances." Further you will find a Photo Gallery on the disc as well as a Theatrical Trailer in high definition.
"Ghost" carries a $29.99 sticker price when it arrives in stores on December 30.