Paramount closes the year in Blu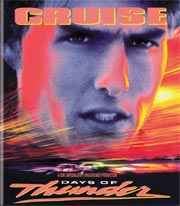 Paramount Home Entertainment has added a number of Blu-Ray titles to their line-up, scheduled for release just before the end of the year.
The list includes Days Of Thunder starring Tom Cruise playing stock car race driver Cole Trickle, whose talent and ambition are surpassed only by his burning need to win. Discovered by businessman Tim Daland (Randy Quaid), Cole is teamed with legendary crew chief and car-builder Harry Hogge (Academy Award. winner Robert Duvall) to race for the Winston Cup at the Daytona 500. A fiery crash nearly ends Cole's career and he must turn to a beautiful doctor (Nicole Kidman) to regain his nerve and the true courage needed to race, to win and to live. The release will feature Dolby Digital 5.1 TrueHD audio and contain the movie's trailer as an extra.
Event Horizon is also part of the list, the horror movie about the high-tech, pioneering research spacecraft that had mysteriously vanished, without a trace, on its maiden voyage seven years earlier. But a weak, persistent signal form the long-missing craft prompts a rescue team, headed by the intrepid Captain Miller (Laurence Fishburne), to wing its way through the galaxy on a bold rescue mission.
The release comes with Dolby Digital 5.1 TrueHD audio and a number of bonus materials, such as Commentary Track, Making Of Featurettes and Trailers.
In The Truman Show, Jim Carrey is the star of the show — but he doesn't know it. It is the story about a man whose life is a nonstop TV show. Truman doesn't realize that his quaint hometown is a giant studio set run by a visionary producer/director/creator (Ed Harris), that folks living and working there are Hollywood actors, that even his incessantly bubbly wife is a contract player. Gradually, Truman gets wise. And what he does about his discovery will have you laughing, crying and cheering like few film stories ever have.
Featuring a Dolby Digital 5.1 TrueHD audio track also, this disc will also contain Deleted Scenes and Featurettes as well as Trailers and TV Spots.
Last Holiday is the film about shy New Orleans cookware salesclerk Georgia Byrd (Queen Latifah) who is informed by her doctor that she has less than a month to live. With news like that, it's time to give your life a serious makeover! So Georgia jets off on a dream vacation to live life like there's no tomorrow. Enjoy hearty laughs and rollicking comedic misadventures when Georgia shakes up a glamorous European resort spa while enthusiastically embracing a new look … new moves … and a new attitude!
Dolby Digital 5.1 TrueHD audio will grace the release ,as well as eaturettes, Deleted Scenes and the movie's Trailer.
All titles will be in stores on December 30!