New Line sends Domino on the hunt in high definition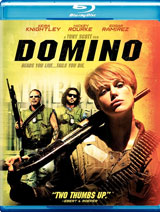 New Line Home Entertainment has added Tony Scott's movie Domino to their Blu-Ray Disc line-up, scheduling the title for January.
Tony Scott brings his relentless visual style and rapid-fire storytelling to this gritty tale based on true events. Keira Knightley stars as Domino Harvey, L.A.'s most notorious bounty hunter who left a life of privilege in Beverly Hills for a life of danger.
Like the DVD version of the film, this Blu-Ray disc will be filled with bonus materials, such as a Commentary Track with Tony Scott and writer Richard Kelly. Also included are Script Notes and story development commentary with Tony Scott, Zack Schiff-Abrams, Richard Kelly and Tom Waits. Look for Deleted Scenes also, and the Featurette "I am a Bounty Hunter" taking a look at the real Domino Harvey's Life. Bounty Hunting on Acid is a featurette on the movie's visual style. The release is rounded out by the movie's Theatrical Trailer.
"Domino" arrives in high definition on January 20 for $28.99.