Lionsgate preps Bangkok Dangerous for January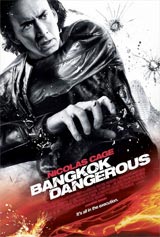 The explosive action thriller Bangkok Dangerous starring Nicholas Cage will arrive on DVD and Blu-Ray Disc in January, courtesy of Lionsgate Home Entertainment.
As a hired assassin, Joe (Nicholas Cage) is the best in the business but the years of stone-cold murder have taken their toll. Joe's plan to make this current assignment in Bangkok his last takes a wild turn when he violates one of the most important rules of the game. Now the hunter is the hunted in this hard-driving, action-packed thriller.
The 2-disc DVD Special Edition will feature an anamorphic widescreen presentation of the movie, complete with Dolby Digital audio. The release will be loaded with extras, however exact details have not yet been unveiled.
The Blu-Ray version will offer the film up in a 1080p transfer restoring the movie's original 1.78:1 widescreen aspect ratio, and will be complemented by a DTS 5.1 HD Master Audio track. Also coming as a 2-disc release, the title will be loaded up with extras, but the exact contents have yet to be announced.
"Bangkok Dangerous" arrives in stores on January 6 for $34.98 on DVD and $39.99 on Blu-Ray Disc.