Lionsgate invites you to Monster's Ball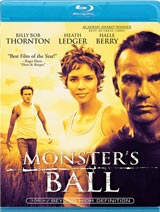 Lionsgate Entertainment has added the critically acclaimed Monster's Ball for release on Blu-Ray Disc later this year.
Georgia prison guard Hank Grotowski (Billy Bob Thornton) is a hard-drinking racist ex-cop whose father, Buck (Peter Boyle), is dying of emphysema and whose son, Sonny (Heath Ledger), works the execution detail at the prison's death row.  When Sonny commits suicide, Hank is devastated and quits his job, spiraling into a deep depression until, one night, he comes to the aid of Leticia (Halle Berry), a beautiful African-American woman whose son has been hit by a car.  When the son dies, Leticia and Hank find themselves to be unexpected soul mates linked together by tragic grief.  It's not long before Hank discovers that Leticia is the widow of Lawrence Musgrove (Sean Combs), the man whose execution by electric chair he and his late son helped to orchestrate.
The release will feature a 1080p high definition transfer of the movie's extended version, complemented by a DTS 5.1 HD Master Audio track. As extras you will find a Commentary Track on the disc, as well as Interviews, Featurettes and Deleted Scenes.
"Monster's Ball" will make its high definition debut on November 4 for only $29.99.