La Femme Nikitaarrives on Blu-Ray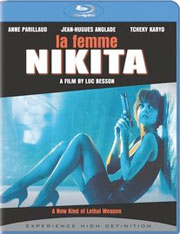 Sony Pictures Home Entertainment has added Luc Besson's original La Femme Nikita to their Blu-Ray line-up.
Rescued from death row by a top-secret agency, Nikita (Anne Parillaud) is slowly transformed from a cop-killing junkie into a cold-blooded bombshell with a license to kill. But when she begins the deadliest mission of her career only to fall for a man who knows nothing of her true identity, Nikita discovers that in the dark and ruthless world of espionage, the greatest casualty of all… is true love.
The release features a 1080p high definition transfer and offer Dolby Digital 5.1 TrueHD audio tracks in English and French. Sadly however, the release will not contain any bonus materials at all.
"La Femme Nikita" arrives on December 2 for $28.95.