King Of The Hill takes aim in January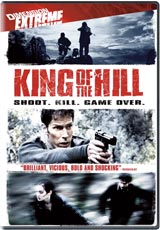 Genius Products has announced a DVD version of the Spanish thriller King Of The Hill to be released in January.
Terror hits new heights in this thriller by director Gonzalo L&oactue;pez-Gallego, set in a remote mountain wilderness. After a man traveling alone has a steamy encounter with a beautiful stranger, the pair join up and take a detour through the hills. But they are suddenly forced to abandon their cars when an unseen sniper puts them in his crossfire. Without understanding why they are being targeted, the strangers must survive their ruthless pursuers and their harsh surroundings. "King of the Hill" is a frighteningly realistic thriller with a crackerjack finale.
The DVD will feature an anamorphic widescreen transfer of the movie with Dolby Digital 5.1 audio but no extras have been announced at this time.
"King of the Hill" will take aim on January 20 and can be yours for $19.97.