HBO releases The Wire as a complete set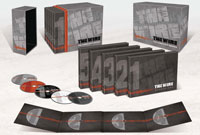 Making for a great Christmas present, HBO Home Entertainment is preparing a 23-disc DVD set featuring all 5 seasons of The Wire.
Candid and intense, "The Wire" has been hailed as "one of the great achievements in television artistry" by the San Francisco Chronicle.  Viewed from the perspective of the principal characters – the police and their targets – "The Wire" captures a world where easy distinctions between good and evil and crime and punishment are challenged at every turn.  The series first season concentrated on the often-futile efforts of police to infiltrate a West Baltimore drug ring.  Seasons two and three introduced new storylines as the drug investigation escalated, adding the pressures on the working class and the city's political leadership to the city's mounting problems.  Season four explored the public school system against the backdrop of a new drug empire and mayor, while the fifth and final season centered on the media's role in addressing or failing to address what was really going on in the city.
In addition to the series itself, the DVD set will also contain all the bonus materials found on the previous season DVD sets, as well as Three Prequels that explore life before "The Wire" as well as a Never-before-seen Gag Reel.
"The Wire: The Complete Series" will be in stores on December 9 with a $249.99 sticker price.