Genius Products prepares River Queen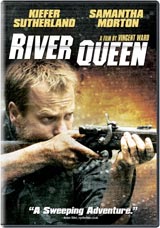 Genius Products has announced a DVD version of the action drama River Queen for November.
Two-time Oscar nominee Samantha Morton, Kiefer Sutherland and Cliff Curtis star in this epic romance set against the breathtaking beauty of 19th century rural New Zealand. Morton portrays the daughter of an Irish-born army surgeon (Stephen Rea) who falls for a Maori tribesman — only to have to raise their child alone when her lover dies of influenza. After the boy is kidnapped by his chieftain grandfather, Morton's quest to find him leaves her torn between her life with an Irish soldier devoted to her family — and a Maori freedom fighter who stirs her passions.
Featuring an anamorphic widescreen transfer with Dolby Digital 5.1 audio, "River Queen" will arrive on November 25 for $24.95.