Disaster Movie will come home in January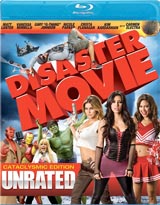 Lionsgate Home Entertainment is preparing the release of another one of their spoofs on current pop culture films, bringing Disaster Movie to DVD and Blu-Ray Disc in January.
Prepare for earthshaking hilarity as the raunchy and outrageous team behind "Date Movie," "Epic Movie," and "Meet The Spartans" puts the world's very survival in the hands of three buxom non-brainiacs. This twisted send-up pulverizes everyone's favorite disaster flicks, pop culture icons and public figures with no-holds-barred humor that will have you quaking with laughter.
There will be two DVD versions, one featuring a fullframe transfer of the movie, the other one a widescreen version of the film's Unrated Cut, complete with a Dolby Digital 5.1 EX audio track..
The unrated version will also be the one to make it to Blu-Ray. It will feature a 1080p high definition transfer with a DTS 7.1 HD Master Audio track.
No extras have been announced at this time.
"Disaster Movie: Cataclysmic Edition" will arrive in stores on January 6 and will cost $29.98 on DVD, and $39.99 on Blu-Ray.