Check out the specs for Jim Carrey on Blu-Ray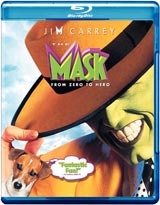 Check out the specs for Jim Carrey on Blu-Ray
New Line Home Entertainment and Warner Home Video have added Blu-Ray versions of Dumb & Dumber and The Mask to their line-up this fall. We have finally been able to obtain the full specs for these anticipated titles.
In Dumb & Dumber, Jim Carrey and Jeff Daniels are hilarious as a pair of loveable losers on a cross-country road trip to return a briefcase full of cash to its beautiful owner (Lauren Holly). During the course of their moronic mission, these indomitable dimwits confound cops, kidnappers, rednecks and anyone unlucky enough to cross their paths.
The Blu-Ray Disc will feature the Unrated Cut of the movie with six minutes of new footage, in 1080p high definition with a Dolby Digital 5.1 TrueHD audio track. As extras the disc will contain a Retrospective Documentary called "Still Dumb After All These Years," as well as Deliriously Dumb Moments. Clips of "Big Fire Stunt," "Kung Fu Chef," "Most Annoying Sound" and "The Toilet Scene" are also included, as well as a number of Additional Scenes and Alternate Endings. The release will be topped off by the movie's Theatrical Trailers.
In The Mask, Jim Carrey stars as mild-mannered bank clerk Stanley Ipkiss, who discovers a mysterious ancient mask that brings his inner most desires to wild, screaming life! Now, together with his sidekick Milo, this wise-cracking green tornado is taking Edge City over the top in this romantic-action-comedy that will leave you S-s-s-smokin'!
Featuring a 1080p high def transfer with Dolby Digital 5.1 TrueHD audio, the release will also feature a Commentary Track with Director Charles Russell, Co-Chairman of New Line Cinema Bob Shaye, Writer Mike Werb, Executive producer Mike Richardson, Producer Bob Engelman, ILM VFX supervisor Scott Squires, Animation Supervisor Tom Bertino, and Cinematographer John Leonetti. Director Charles Russell will also appear on a second Commentary Track all by himself.
The Retrospective Documentary "Return to Edge City" will be part of the release also, as well as the Featurette "Introducing Cameron Diaz."
Next up is Cartoon Logic and the featurette, "What Makes Fido Run?" To round out the release there will also be the movie's Theatrical Trailers
Both titles are slated for release on December 9, each with a $28.99 sticker price attached.