Blue Underground adds Dead & Buried to Blu-Ray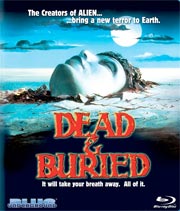 Independent publisher Blue Underground has just added a Blu-Ray version of one of their cult favorites to their release schedule, the spooky horror thriller Dead & Buried.
Something very strange is happening in the quiet coastal village of Potters Bluff where tourists and transients are warmly welcomed, then brutally murdered. But even more shocking is when these slain strangers suddenly reappear as normal, friendly citizens around town. Now the local sheriff (James Farentino) and an eccentric mortician (Oscar® winner Jack Albertson in his final feature film performance), must uncover the horrific secret of a community where some terrifying traditions are alive and well… and no one is ever really Dead & Buried.
The chilling film will be presented in a 1080p high definition transfer in its uncut and uncensored version. Considering that the film is by nature very grainy, it will be interesting to see how Blue Underground treats this film while making the transition to high definition. The release will offer a DTS 5.1 HD audio track to complement the feature film.
The release will contian the extras previously found on the 2-disc DVD version, such as three Commentary Tracks, one featuring Director Gary A. Sherman, the other with Co-Writer/ Co-Producer Ronald Shusett and Actress Linda Turley, while the third one will hand the microphone to Cinematographer Steve Poster.
Also included are the Featurettes "Stan Winston's Dead & Buried EFX," "Robert Englund: An Early Work of Horror" and "Dan O'Bannon: Crafting Fear." You will also find Steve Poster's Location Stills on the release as well as a Gallery and the film's Theatrical Trailers.
Look for "Dead & Buried" on January 27 for $34.95.