You can get Stuck this October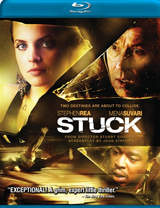 From Image Entertainment comes a grim thriller this fall when the studio releases Stuart Gordon's Stuck on DVD and Blu-Ray Disc.
Based on a true story, "Stuck" tells the story of Brandi (Mena Suvari), a hard-partying, overworked nursing assistant, accidentally steers her car into a homeless man (Stephen Rea), sending him flying through the windshield. Not wanting to jeopardize a possible job promotion, she chooses not to get him medical help, leaving him clinging to life in her garage. But soon her psyche begins to unravel as captor and captive are pitted against each other in a bloody… even outrageous battle for survival.
The film will arrive as a 2-disc DVD set and single-disc Blu-Ray version that will hold the same bonus features, namely a Commentary Track featuring director Stuart Gordon, writer John Strysik and actress Mena Suvari, as well as 3 Featurettes, entitled "Chante's Inferno," "The Gory Details," and "Driving Forces." The release will also include the movie's Theatrical Trailer.
You can witness "Stuck" on October 14 for $27.98 on DVD or $35.98 on Blu-Ray.