Warner adds the Sisterhood of the Traveling Pants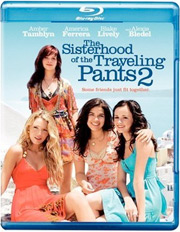 Warner Home Video has just added the Sisterhood Of The Traveling Pants 2 to their line-up on DVD and Blu-Ray Disc.
Join the four best friends as they finish their first year at college and dive into a summer of excitement. Bridget (Blake Lively) journeys to Turkey on an archeological dig. Carmen (America Ferrera) plugs into the hectic, creative world of summer theater in Vermont. Lena (Alexis Bledel) discovers new love and old heartbreak at the Rhode Island School of Design. And in the Big Apple, Tibby (Amber Tamblyn) takes a big step in her relationship with Brian.
The film will comes as separate fullscreen and widescreen DVD versions with Dolby Digital 5.1 audio. Extras on the release include Additional Scenes and a Gag Reel, as well as Go Jump Off A Cliff, a look at how the exhilarating final sequence that was not originally in the script, was inspired by fan reactions to the first movie.
The Blu-Ray version will offer up a 1080p high definition transfer and complement it with a Dolby Digital 5.1 TrueHD audio track. The extras found on the release will be identical to those on the DVD version.
"Sisterhood Of The Traveling Pants 2" will make a stop over in a store near you on November 18 and can be yours for $28.98 on DVD or $34.98 on Blu-Ray disc.