Universal celebrates Animal House's 30th Anniversary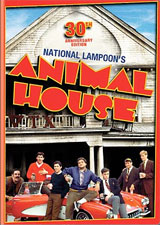 It may be hard to believe but yes, National Lampoon's Animal House is turning 30, and Universal Home Entertainment is celebrating the anniversary in style.
Who dropped a whole truckload of fizzies into pool at the swim meet? Who delivered the medical school cadavers to the alumni dinner? Who fills the trees with underwear every Halloween? Delta House, that's who! The most popular college comedy of all time is back and every bit as funny as it was the first time! Delta House is the disgrace of Faber College's fraternity system. Dean Wormer (John Vernon) and rival frat Omega are determined to rid the campus of these undesirables and they're out of control partying and pranks, but these boy aren't going away without a fight. Delta House takes one last stand with a rollicking, booze-fueled party that Faber College will never forget! The cast includes John Belushi in the role that made him a movie star, Tim Matheson, Tom Hulce, Stephen Furst, Karen Allen, Donald Sutherland, Peter Riegert and Kevin Bacon.
Coming as a 2-disc DVD set the release will include a greta mix of new and old supplements. among the proven favorites are the Mockumentary "Where Are They Now?" and the original Documentary " The Yearbook: An Animal House Reunion." The release will also contain two all-new "Scene It?" Mini-Games.
The release will be available as a regular DVD as well as a DVD Gift Set, packaged in a commemorative fraternity house box, that will include even more bonus features. A printed Collectible Faber College Yearbook will be part of this release as well as the All-new Documentary "The Inside Story" celebrating Animal House 30th Anniversary featuring interviews with the movie's cast and crew, including Harold Ramis, John Landis, Peter Riegert, and Karen Allen. This 98-minute documentary also includes a visit to the University of Oregon, where the movie was filmed.
"National Lampoon's Animal House 30th Anniversary Edition" will arrive in stores on October 28 and will carry a $19.98 price tag for the regular 2-disc DVD and $34.98 for the gift set.