Tommy Emmanuel goes Center Stage to blow your mind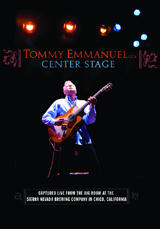 Not a whole lot of American listeners have ever heard of Tommy Emmanuel, a world-class guitar player from Australia. With an over 30-year career and incredible albums, such as "Determination" and "The Mystery", Emmanuel has proven over and over again that he is easily one of the most proficient players the world has. Whether it is rock, blues, country, jazz or romantic ballads, Tommy Emmanuel plays them with equal bravado and razor-sharp perfection.
To my pleasant surprise, music publisher Red has just announced a DVD version of Emmanuel's latest release Center Stage to hit US retail shelves in October. "Center Stage" is a great mix of the new and the fan favorites from previous Favored Nations Acoustic releases like "The Mystery" and "Endless Road." It also includes four never-before recorded songs of Emmanuel's – "Ruby's Eyes", "The Jolly Swagman", Lenny Bro'" and the George Harrison inspired "Papa George."
The release will offer Dolby Digital 5.1 audio and will set your screen on fire, no doubt. If you enjoy instrumental guitar music and would like to see one of the best perform some of the most remarkable songs, put "Tommy Emmanuel: Center Stage" on your shopping list. It will be in stores on October 14 for only $16.98 and I know I'll be standing in line for my copy.