The full details for Kung Fu Panda have arrived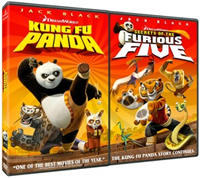 As we announced some time ago, Dreamworks Home Entertainment is bringing this summer's animated smash hit Kung Fu Panda to DVD and Blu-Ray Disc this fall.
Enthusiastic, big and a little clumsy, Po works in his family's noodle shop while daydreaming about becoming a Kung Fu master. His dreams soon become reality when he is unexpectedly chosen to join the world of Kung Fu and study alongside his idols—the legendary fighters Tigress, Crane, Mantis, Viper and Monkey—under the leadership of their guru, Master Shifu. But before they know it, the vengeful and treacherous snow leopard Tai Lung is headed their way, and it's up to Po to defend everyone from the oncoming threat. Can he turn his dreams of becoming a Kung Fu hero into reality? Po puts his heart and his girth into the task, and ultimately finds that his greatest weaknesses turn out to be his greatest strengths.
Dreamworks will team up this blockbuster hit with a full-length sequel to the film called Secrets Of The Furious Five that will also be released as part of the deal. Delving into the backstories of the unforgettable characters from Kung Fu Panda with brand new animation, Secrets of the Furious Five once again features the voices of Jack Black as the heroic and beloved Po and Dustin Hoffman as Master Shifu.
"Kung Fu Panda" will arrive in a number of configurations. First there will be the single-disc DVD that contains the movie as a good number of bonus materials, such as a Commentary Track and the Featurettes "Meet the Cast," "Pushing the Boundaries," "Sound Design," "How To Use Chopsticks " and "Mr. Ping's Noodle House." Also included is the "Kung Fu Fighting" Music Video and Conservation International: Help Save Wild Pandas. The release is rounded out by the Dragon Warrior Training Academy and a trailer gallery.
A 2-disc DVD release is also scheduled, containing the above-mentioned DVD as well as a second disc, containing the all-new sequel "Secrets Of The Furious Five," complete with a slew of bonus materials also. Look for Po's Power Play featuring the Tutorial "Learn to Draw: Crane, Monkey, Viper, Po, Mantis & Tigress" as well as Dumpling Shuffle and the Pandamonium Activity Kit.
Also included are Game Demos and a series of Featurettes suc has "Land of the Panda," "Learn the Panda Dance," "Do You Kung Fu?," "Inside the Chinese Zodiac," "Animals of Kung Fu Panda" and "What Fighting Style Are You?"
The Blu-Ray version of the movie will feature a 1080p high def transfer with 5.1 Dolby TrueHD audio of both movies, plus all of the bonus features found on the respective DVD versions. All bonus materials will be presented in high definition on this release and there will also be a BD Live feature as well as the features "A Day in the Life: A Shaolin Monk in Training" – available for a limited time only – and "Po Around the World" on the disc.
Pandemonium arrives on November 9, so make sure to mark your calendars.