Super Troopers arrive on the scene – in high def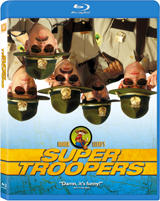 20th Century Fox Home Entertainment has included a Blu-Ray Disc version of Super Troopers in their fall line-up.
Always looking for action, five over-enthusiastic, but under-stimulated Vermont State Troopers raise hell on the highway, keeping motorists anxiously looking in their rear view mirrors. Between an ongoing feud with the local cops over whose you-know-what is bigger and the state government wanting to shut them down, the Super Troopers find themselves patrolling the boundaries of good taste as they hilariously and unwittingly skid towards solving the crime of their lives.
Featuring the original 1.85:! widescreen presentation of the film in 1080p, the release will also include an English DTS 5.1 HD Master Audio Lossless track as well as a selection of Dolby Digital tracks. As extras you will find a Commentary Track by members of the Broken Lizard Comedy Team Jay Chandrasekhar, Erik Stolhanske, Kevin Heffernan, Steve Lemme and Paul Soter on the disc, as well as Outtakes and Extended Scenes all with option commentary, as well as the movie's Theatrical Trailer.
"Super Troopers" will be in stores on December 9 for $39.98.