Sunset Boulevard returns to DVD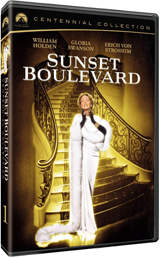 Paramount Home Entertainment is starting a new line of releases, called the Centennial Collection, which will feature acclaimed classic movies with new transfers and bonus materials in special editions that very much remind us of Criterion Collection releases.
The first release in the line will be Sunset Boulevard, Billy wilder's Academy Award winning look at Hollywood, featuring Gloria Swanson, as Norma Desmond, an aging silent-film queen, and William Holden, as the struggling young screenwriter who is held in thrall by her madness. From the unforgettable opening sequence – a body found floating in a decayed mansion's swimming pool – through the inevitable unfolding of tragic destiny, "Sunset Boulevard" is the definitive statement on the dark and desperate side of Hollywood.
The release will offer a new transfer of the film and over 2 hours of additional bonus materials. There will be a Commentary Track by Ed Sikov, author of "On Sunset Boulevard: The Life and Times of Billy Wilder," taken from a previous DVD release. But there is also a wealth of brand new materials, usch as the Featurettes "Sunset Boulevard: The Beginning", "The Noir Side of Sunset Boulevard by Joseph Wambaugh," "Sunset Boulevard Becomes a Classic," "Two Sides of Ms. Swanson," "Stories of Sunset Boulevard," "Mad About the Boy: A Portrait of William Holden," "Recording Sunset Boulevard," "The City of Sunset Boulevard," "Behind the Gates: The Lot."
Other Featurettes included on this version are "Franz Waxman and The Music of Sunset Boulevard," "Paramount in the '50s," and "Edith Head – The Paramount Years." Further the Morgue Prologue Script Pages will be included as well as the Hollywood Location Map and the movie's Trailer and Still Gallery.
The "Sunset Boulevard: Centennial Collection" will make its debut on November 11 for only $19.98.