Star Wars: The Clone Wars will commence in November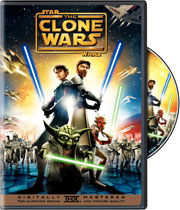 Warner Home Video and Lucasfilm have just unveiled details about the release of Star Wars: The Clone Wars to DVD and Blu-Ray Disc this November.
The Clone Wars takes place between Star Wars Episode II: Attack of the Clones and Star Wars Episode III: Revenge of the Sith. Jedi Knights Anakin Skywalker and Obi-Wan Kenobi continue their journey across the galaxy amongst the Clone Wars, meeting up with familiar villains, such as Count Dooku, General Grievous and Asajj Ventress. The Grand Army of the Republic, led by Yoda, Mace Windu, Obi-Wan Kenobi, and other Jedi Knights, must fight the New Droid Army of the Separatists.
There will be two separate DVD versions of the film, the first one, a single-disc DVD, will contain the movie only.
A 2-disc Special Edition DVD will also be released, featuring the film as well as many extras, such as Webisodes and Deleted Scenes, as well as a number of Featurettes called "The Clone Wars: The Untold Stories," "The Voices of The Clone Wars" and "The New Score." Galleries and Trailers will round out the release.
The Blu-Ray Disc version will feature a 1080p high def transfer and come with a Dolby Digital TrueHD audio track. As exclusive extra you will find a Video Commentary on the disc, featuring the filmmakers, as well as all the extras found on the Special Edition DVD. Also included is a Hologram Memory Challenge allowing you to unlock sneak peeks of "The Clone Wars" TV series, presented in high definition.
"Star Wars: The Clone Wars" will do battle on November 11 and will carry a $19.95 price tag for the single-disc version, $34.99 for the 2-disc special Edition and $35.99 for the Blu-Ray Disc.