Space Chimps come back to Earth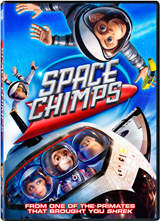 20th Century Fox Home Entertainment is readying the upcoming DVD and Blu-Ray release of Space Chimps for November.
When Ham III, the slacker grandson of NASA's legendary chimpanzee astronaut, is recruited to help retrieve a lost space probe, he has a close encounter of the hilarious kind as he teams up with the lovely Lieutenant Luna and their by-the-book commander, Titan. But when the ship crash-lands on a strange planet, can this mismatched chimp crew work together to save the mission without driving each other bananas? The simian slacker becomes a reluctant hero and learns the true meaning of courage as he and his crewmates risk everything in an effort to save the peaceful inhabitants of a distant planet from an evil dictator.
The DVD version will be available in anamorphic widescreen and old-fashioned fullscreen and will include a Featurette on casting the film, Photo Galleries and TV spots.
The Blu-Ray version , coming on a BD-25 disc, will contain a high def transfer of the film in widescreen only, complemented by a DTS 5.1 Lossless Master Audio track. All the bonus materials from the DVD will be included, as well as a "Trivia Blast Off" Trivia Track featuring on-screen facts about outer space, space travel and the Space Program.
Both versions arrive on November 25th .