Shout! Factory releases Spin City: The Complete Season 1 in November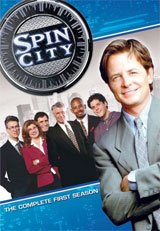 Shout! Factory is currently preparing the release of Spin City: The Complete Season 1 on DVD.
"Spin City" is a smart, sophisticated ABC sitcom about the behind-the-scenes workings of City Hall in the biggest city in America. Workaholic Mike Flaherty (Michael J. Fox) is the Deputy Mayor of New York City, serving as Mayor Randall Winston's (Barry Bostwick) key strategist and much-needed handler.
Mike runs the city with the help of his oddball staff: an anxious and insecure press secretary (Richard Kind); a sexist, boorish chief of staff (Alan Ruck); an impeccably groomed gay activist running minority affairs (Michael Boatman); a sharp and efficient, man-crazy accountant (Connie Britton); and an idealistic young speechwriter (Alexander Chaplin). Like Mike, they are all professionally capable but personally challenged.
The DVD release of the first season will be presented on 4 discs in the show's original fullframe aspect ratio with Dolby Digital 5.1 audio. As extras you will find a Commentary Track with cast and crew members on the release, as well as the Featurette "The Spin," in which cast and creators look back at how the show began and remember its first season. It includes all-new interviews with Michael J. Fox, Barry Bostwick, Richard Kind, Alan Ruck, Michael Boatman, Connie Britton, and Alexander Chaplin and show creators Gary David Goldberg and Bill Lawrence and more. In October 1996, Michael J. Fox and Gary David Goldberg gave a seminar for members of the Museum of Television & Radio. This Seminar entitled "Prime-Time Partners: Highlights of The Paley Center for Media Seminar" is also included on the release.
"Spin City: The Complete Season 1" arrives in stores on November 4 and can be yours to own for $39.99.