Rob Zombie's Halloween remake makes it to Blu-Ray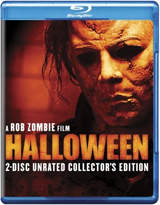 We just got information from Genius Products about the upcoming release of Rob Zombie's somewhat ill-received – but box office successful – remake of Halloween in time for, well you guessed it, Halloween.
After being committed for 17 years, Michael Myers, now a grown man and still very dangerous, is mistakenly released from the mental institution (where he was committed as a 10 year old) and he immediately returns to Haddonfield, where he wants to find his baby sister, Laurie. Anyone who crosses his path is in mortal danger.
Apart from a 1080p high definition transfer and a Dolby Digital TrueHD audio track, the 2-disc Blu-Ray release will be loaded with bonus materials, suc has a Commentary Track by Rob Zombie, Deleted Scenes and a Blooper Reel. Also included is a series of Featurettes, with titles such as "The Many Masks Of Michael Myers," "Re-Imagining Halloween," and "Meet The Cast." You will also find footage from the Casting Sessions and Scout Taylor-Compton's Screen Test on the disc, along wit hthe movie's Theatrical Trailer and BD Live, giving you access to bonus materials from the internet.
"Halloween" makes its Blu-Ray debut on October 21 and can be had for $34.95.