Priceless arrives in November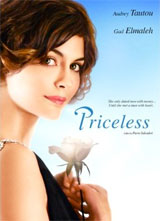 First Look Studios has added the romantic comedy Priceless, starring Audrey Tautou, to their line-up for a DVD and Blu-Ray Disc release this fall.
On the French Riviera, nothing comes cheap. And when it comes to men, Irene has very rich taste. One very confusing night, she is duped at her own game. Her knight in shining armor turns out to have no shine at all. Irene, however, is the woman of Jean's dreams. The only way to win her heart back is to turn the tables on her.
The release features an anamorphic widescreen transfer with Dolby Digital 5.1 audio on DVD, and a 1080p high definition transfer with a Dolby 5.1 TrueHD audio track on Blu-Ray Disc. No extras have been announced to be part of the release.
"Priceless" will prove to you that true love is priceless on November 18 when it can be yours for $28.98 on DVD or $34.98 on Blu-Ray.