New Line undertakes the Journey To The Center Of The Earth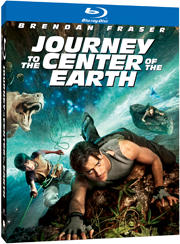 New Line Home Entertainment has just added this summer adventure family hit Journey To The Center Of The Earth to their fall release line-up on DVD and Blu-Ray Disc.
Brendan Fraser stars in this action packed adventure
Based on the Jules Verne novel, Brendan Fraser stars in this action packed adventure for the whole family! On a hunch to find the center of the Earth, Trevor Anderson (Brendan Fraser), his nephew and their tour guide make a breakthrough discovery that launches them on a thrilling journey into the unknown. On a scramble to find their way back, the group travels through a never before seen world, encountering creatures and objects never imagined.
The DVD version will feature the movie's widescreen and fullframe presentation on the same disc, as well as a Commentary Track by Brendan Fraser and director Eric Brevig. Also included is the Featurette "A World Within Our World", discussing various historical theories about what lies beneath our planet's crust. "Being Josh" is a Profile Featurette on 12-year old costar Josh Hutcherson, while "How To Make Dinosaur Drool" will give you a rare look behind the scenes. "Adventure At The Center Of The Earth Challenge" is an interactive Game that will round out the disc.
For a limited time, the DVD release will also include a 3D version of the movie, but only in its initial release batch.
The Blu-Ray version will offer a 1080p high definition transfer of the movie, naturally, and combine it with a Dolby Digital 5.1 audio track. The extras on this high definition release will be identical to those found on the DVD version, albeit in high definition resolution also. In addition the Blu-Ray version also includes the 3D version of the movie.
The adventure to "Journey To The Center Of The Earth" will kick off on October 28 and you're invited to come along for $28.98 on DVD or $35.99 on Blu-Ray Disc.