Missed out on paying retail for Alvin '07?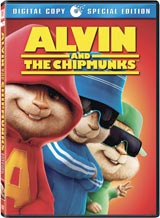 Don't fret. 20th Century Fox Home Entertainment has got you covered with a Special Edition DVD release of Alvin and The Chipmunks that will make sure you pay $20 or more.
When struggling songwriter Dave Seville (Jason Lee) opens his home to a talented trio of chipmunks named Alvin, Simon and Theodore, they become overnight music sensations. But a greedy record producer (David Cross) intends to exploit the "boys" and send them on a grueling concert tour just to line his own pockets. Now Dave must use a little human ingenuity – and a lot of 'munk mischief – to get his family back before it's too late!
Coming around as a 2-disc Special Edition DVD version with Digital Copy, this release will feature an anamorphic widescreen transfer of the movie with Dolby Digital 5.1 audio in English. As extras you will find a Behind the Nuts Munkumentary on the release as well as the Instructional Dance Featurette "Get Munked." Other Featurettes included on the disc are "Chipmunks Live on Tour," "The Dudes Behind The Munks" and "Chipmunk Funk Mixer."
A selection of Deleted Scenes is also included, as well as Music Videos for "The Chipmunk Song (Christmas Don't Be Late)," and "Witch Doctor."
The second disc of the set will feature WMV and iTunes compatible digital transfers of the movie to play on your PC or mobile devices.
" Alvin and The Chipmunks" returns on November 4 and can be yours to own for $29.98. A Limited Edition will also be available, including an Alvin Beanie Baby, which will cost you $34.98.