Lionsgate listens to the story According to Jim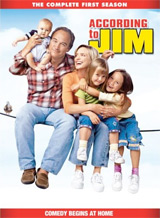 Lionsgate has just added the family comedy According To Jim: Season One to their schedule, adding this DVD set to their line-up in October.
In this earthy family comedy, Jim (Jim Belushi) is the macho "everyman" who challenges wife, Cheryl (Courtney Thorne-Smith), with his stubborn manliness but contagious charm.  Tagging along with this duo of happily married opposites are their three precocious kids.  A success at his construction business and the family breadwinner at home, Jim feeds his other passion, blues music, playing with his six-man garage band.  He keeps Cheryl in turmoil with his boyish bravado and ever willful antics, but their underlying love guarantees that they are in this marriage for keeps.
This first season of the show that originally aired in 2001-2002, will arrive as a 4-disc DVD set that also includes a number of extras, suc has the Making-of Featurette "Comedy Begins At Home," and the Featurette "The Season According To Jim" in which Jim Belushi reminisces about seaosn one highlights. Also includes is a Set Tour with Belushi, Commentary Tracks on selected episodes and Outtakes.
Get ready for the fun on October 24 for $39.98.