Kitt Kittredge arrives this fall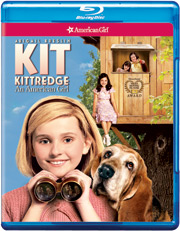 New Line Home Entertainment has added the family film Kitt Kittredge: An American Girl to their fall line-up on DVD and Blu-Ray Disc.
The Great Depression hits home for nine year old Kit Kittredge when her dad loses his business and leaves to find work. Oscar nominee Abigail Breslin stars as Kit, leading a splendid cast in the first ever American Girl theatrical movie. In order to keep their home, Kit and her mother must take in boarders – paying house – guests who turn out to be full of fascinating stories. When mother's lockbox containing all their money is stolen, Kit's new hobo friend Will is the prime suspect. Kit refuses to believe that Will would steal, and her efforts to sniff out the real story get her and friends into big trouble. The police say the robbery was an inside job, committed by someone they know. So if it wasn't Will, then who did it?
Containing both a widescreen and a fullframe version of the movie on the same disc, the DVD version will also include an American Girl Movie Trailer Gallery and a few DVD-Rom PC Enhanced Features. Other than that, the release will be devoid of bonus materials.
The Blu-Ray version will offer up the movie in glorious 1080p high definition and supplement it with a Dolby Digital 5.1 track. As the only extra you will also find the American Girl Movie Trailer Gallery on the disc.
The release may be disappointingly thin in terms of supplements when it arrives on October 24 for $35.98 on Blu-Ray and $28.98 on DVD, but you never know with these theatrical debuts, a special edition may be in the works somewhere down the line.