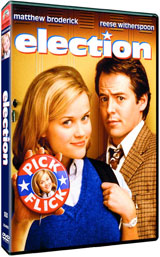 High school politics aren't all that different from normal politics. That's pretty clear in the 1999 film Election which is coming to Blu-Ray Disc in time to hail to a new chief.
Reese Witherspoon is Tracy Flick, a straight "A" go-getter who's determined to be president of Carver High's student body. But when popular teacher Jim McAllister (Matthew Broderick) observes the zealous political locomotive that is Tracy, he decides to derail her obsessive overachieving by recruiting an opposition candidate (Chris Klein) – with disastrous results! Here's a smart, witty and hilarious jab at high school politics helmed by award-winning director Alexander Payne.
The release will feature a 1080p transfer with Dolby Digital 5.1 audio, and come with a Commentary Track with director Alexander Payne. You can pick "Election" up on Blu-ray on January 20th, 2009.