Hot Rod launches on Blu-Ray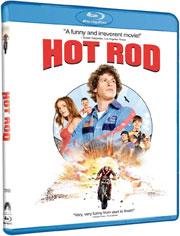 Paramount Home Entertainment has just added the comedy Hot Rod to their Blu-Ray Disc schedule this fall.
Amateur stuntman Rod Kimble (Andy Samberg) has a problem – his step-father Frank (Ian McShane) is a jerk. Frank picks on Rod, tosses him around like a rag doll in their weekly sparring sessions, and definitely doesn't respect him, much less his stunts. But when Frank falls ill, it's up to Rod to stage the jump of his life in order to save his step-father. The plan: Jump 15 buses, raise the money for Frank's heart operation, and then… kick his ass.
The Blu-Ray version of the film will arrive with a 1080p high definition transfer as well as high definition audio in the form of an uncompressed PCM 5.1 track, a Dolby Digital 5.1 TrueHD track along with regular Dolby Digital 5.1 language tracks.
The release will be packed with extras, including the Commentary Track from the DVD version, a series of Deleted Scenes, Bloopers, as well as a number of Featurettes and Additional Footage.
"Hot Rod" will launch on December 16 on Blu-Ray and will carry a $29.99 sticker price.