Genius Products saddles up The Lone Ranger Collector's Edition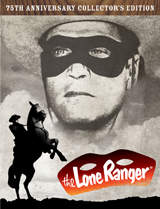 Celebrating the Western icon's 75th Anniversary, Genius Products has added a 13-disc DVD Collector's Edition of The Lone Ranger to their fall line-up.
Return with us now to those thrilling days of yesteryear…when with one jaunty call, "Hi-Yo, Silver!" the Lone Ranger solidified his role as America's favorite hero of the Wild West with his trusted companion Tonto by his side. Mounted atop a white stallion, he remains a steadfast symbol for truth and justice, capturing the hearts and imaginations of generations of fans.
The massive DVD set will feature the complete first and second seasons of the original TV series, available together for the first time! Running over 1900 minutes, the set will also include Limited Edition Collectibles, a complete Episode Guide and other supplements.
"The Lone Ranger 75th Anniversary Collector's Edition" will arrive in stores on November 11 with a $119.93 sticker price.