Genius loads up on Lucky # Slevin Blu-Ray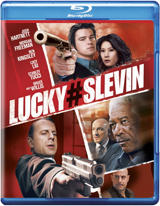 Genius Products has just added the cool action thriller Lucky # Slevin to their Blu-Ray Disc fall line-up.
Set in the New York underworld where nothing is as it seems, Lucky # Slevin is an action-packed thriller in which down-on-his-luck Slevin (Josh Hartnett) stumbles into a running feud between the city's most feared crime bosses (Morgan Freeman and Ben Kingsley), and ignites an all-out war. Tracked by a mysterious assassin (Bruce Willis) and distracted by his flirtatious neighbor (Lucy Liu), Slevin must try to cheat death by turning the tables on the gangsters.
Remarkable through and through, "Lucky # Slevin" will feature a 1080p high definition transfer and contain the extras previously found on the DVD version, such as 2 Commentary Tracks, Deleted Scenes and an Alternate Ending as well as a Making Of Featurette.
"Lucky # Slevin" hits Blu-Ray on November 18 for $28.95.