Gene Simmons Family Jewels returns for season 3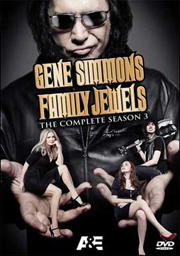 A&E Home Entertainment has just added Season 3 of the guilty pleasure series Gene Simmons Family Jewels to their fall line-up.
Not a whole lot of details are known yet about the release, but coming as a 4-disc set featuring all 26 episodes of the show's third season, the DVD set will arrive on November 18 for $34.95. However, we already have the cover artwork of the DVD set for you and as you can tell, A&E is giving this release a slightly different look and feel than the previous seasons.