Bones: Season 3 arrives in November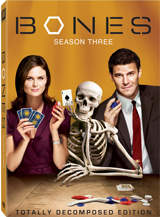 20th Century Fox Home Entertainment has unveiled details about their upcoming DVD box set Bones: Season 3 – Totally Decomposed Edition.
Dig into a world of crime scenes, decayed remains, murder investigations and more with seven unlikely colleagues in "Bones." The suspenseful procedural drama stars actress and co-producer Emily Deschanel as Dr. Temperance Brennan, a brilliant, highly-skilled forensic anthropologist with a lack of social courtesy, and David Boreanaz as F.B.I. Special Agent Seeley Booth, who despite mistrusting science and scientists, forms an improbable bond with the socially awkward doctor. Together with Dr. Brennan's colleagues, including artist Angela Montenegro (Michaela Conlin), young genius Dr. Zack Addy (Eric Millegan), insect expert and conspiracy theorist Dr. Jack Hodgins (T.J. Thyne), coroner Dr. Camille Saroyan (Tamara Taylor) and therapist Dr. Lance Sweets (John Francis Daley;), they investigate the disturbing realities of true crime.
The 5-disc DVD set will feature all 15 full-hour episodes from the show's third season, but will also include 4 bonus episodes from season 4. As bonus materials you will find 3 Extended Episodes on the release, together with a Gag Reel, an Extended Kiss Scene between Booth and Bones, and a series of Director's Takes.
"Bones: Season 3 – Totally Decomposed Edition" comes t ostores on November 18 with a $59.98 sticker price.