Blue Streak goes high def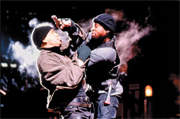 Sony Pictures Home Entertainment has just added the Martin Lawrence action comedy Blue Streak to this fall's Blu-Ray Disc line-up.
Master jewel thief Miles Logan (Martin Lawrence) has a big problem. A $20 million dollar problem. Recently released from prison for the botched heist of a huge diamond, he's anxious to retrieve the hot rock which he hid at a construction site two years earlier. Unfortunately, his hiding place is now at the center of a recently completed high-security police precinct. Posing as a detective, and partnered with straight laced rookie Carlson (Luke Wilson),Miles utilizes his criminal expertise and inadvertently rises up the ranks, winning the respect of his fellow "boys in blue."
The release will feature a 1080p high definition transfer and offer up a variety of high definition audio tracks. In addition you will find the Featurette "Setting Up For The Score" on the disc as well as the HBO First Look: Inside and Undercover and Music Videos by Jay-Z, Tyrese and So Plush on the disc.
"Blue Streak" arrives wit ha bang on November 18 for $28.95.