Awake will terrorize Blu-Ray in fall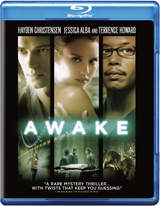 Genius Products has included the thriller Awake in their Blu-Ray Disc schedule for a November release.
Sexy and suspenseful, "Awake" turns the disturbingly real phenomenon of "anesthetic awareness" — in which surgery patients, though completely paralyzed, are conscious of everything they are experiencing, including the pain — into a thriller. When failed anesthesia leaves a rich young tycoon (Hayden Christensen) alert but immobilized during open-heart surgery, he overhears a devious plot to have himself killed. Co-starring Jessica Alba and Academy Award-nominee Terrence Howard, "Awake" will get under your skin.
Featuring a 1080p high definition transfer the disc will also contain a Commentary Track with writer/director Jody Harold, as well as Deleted Scenes with optional commentary. Also included is a Making Of Featurette and the movie's Trailer.
"Awake" will be available on Blu-Ray on November 18 for $28.95.