You Don't Mess With The Zohan infiltrates home video this fall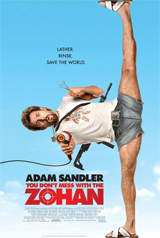 Sony Pictures Home Entertainment is preparing five different SKUs of the latest Adam Sandler comedy You Don't Mess With The Zohan for release on home video this fall on DVD, Blu-Ray Disc and UMD for the PSP.
Comedy superstar Adam Sandler is back as The Zohan, the finest counterterrorist agent the Israeli army has. That is, until he fakes his death and travels to Manhattan to live his dream… as a hairdresser. Now this skilled fighting machine who used to clip bad guys is out to prove he can make the cut as a top stylist. All goes silky smooth until his cover is blown when he's recognized by a Palestinian cab driver (Rob Schneider). Now, The Zohan must fight to live a peaceful new life in New York.
Arriving on DVD as a single-disc Theatrical version as well as a single-disc Unrated version and a 2-disc Unrated Special Edition, there will be a DVD version for everyone. The Special Edition will come packed wit hextras suc has the Featurettes "All American Redneck," "Look Who Stopped By," "Dugan: The Hand's on Director," "The Stunts of Zohan," "Dugan Espanol?," "Zohan vs. The Phantom," "Zohan's Doubles," "Shooting Baja for Tel Aviv," "Disco Break," "From Guns to Scissors," "News on 3: Breaking News Reports," "Laughing is Contagious," "The Robot" and "Getting Sticky." Also included are Deleted Scenes and Alternate Takes.
The Blu-Ray version features a 1080p video transfer and will include all the extras found on the 2-disc DVD version but will also come with a Graphics-in-Picture Track called "Translating the Zohan."
"You Don't Mess With The Zohan" arrives on October 7 and will carry a $28.96 price tag for the single-disc DVDs, $34.95 for the Special Edition DVD, $38.96 for the Blu-Ray version and $24.94 for the UMD version.