Universal releases new version of Hitchcock classics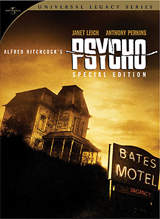 Universal Home Entertainment has just unveiled details on three Alfred Hitchcock classics that will return to DVD in brand new editions. The films in question are Psycho, Rear Window and Vertigo.
"Psycho" will offer up a number of new features, such as a Commentary Track by Hitchcock scholar Stephen Rebello, as well as the Featurette "In the Master's Shadow: Hitchcock's Legacy" in which some of Hollywood's top filmmakers discuss Hitchcock's influence and why his movies continue to thrill audiences. Also new is the Interview "François Truffaut Interviews Alfred Hitchcock" featuring excerpts form a 1962 audio interview. "Alfred Hitchcock Presents 'Lamb to the Slaughter'" is a Full-length Episode from Season 3 of Alfred Hitchcock's TV series featuring Barbara Bel Geddes.
The other bonus materials on the disc are culled form previous releases and include the Feature-length Documentary "The Making of Psycho", Newsreel Footage, Storyboards, Psycho Archives, Posters Gallery, Lobby Card Gallery and Production Photographs as well as the featurette "The Shower Scene" showcasing the impact of the music selected for the terrifying scene. The release is rounded out by the movie's Trailer.
"Vertigo" will contain the new supplements "Partners In Crime: Hitchcock's Collaborators," a Featurette about Alfred Hitchcock's closest collaborators including costume designer Edith Head, composer Bernard Herrmann, title creator Saul Bass and Hitchcock's wife, Alma. Excerpts form th e1962 François Truffaut Interviews Alfred Hitchcock will also be included as well as "Alfred Hitchcock Presents 'The Case of Mr. Pelham'", a full-length episode from Season 1 of Alfred Hitchcock's TV series and a brand enw Commentary Track by film director William Friedkin.
The disc will also contain previously released extras, including a Commentary Track with associate producer Herbert Coleman, noted film restorers Robert A. Harris and James C. Katz and cast members. Also look for the Foreign Censorship Ending, a version of the film's ending that was created for international releases. Further The Vertigo Archives will be included as well as a number of Trailers and the in-depth Documentary "Obsessed With Vertigo: New Life for Hitchcock's Masterpiece."
"Rear Window" will contain a new Commentary Track by John Fawell, author
of "Hitchcock's Rear Window: The Well-Made Film" and the Featurette "Pure Cinema: Through the Eyes of the Master," offering a look at Alfred Hitchcock's
greatest sequences and the virtuoso filmmaking techniques behind them. "Breaking Barriers" is an examination of Alfred Hitchcock's innovative use of sound throughout his films.
"François Truffaut Interviews Alfred Hitchcock" excerpts from a 1962 audio
interview with Alfred Hitchcock are also part of the release as well as the Full-Length Episode "Alfred Hitchcock Presents 'Mr. Blanchard's Secret'" from Season 2 of Alfred Hitchcock's landmark TV series.
The other supplements making up the release are the original Documentary "Rear Window Ethics" and a conversation with the Screenwriter John Michael Hayes.
Production Photographs and the film's Trailers will round out the release.
All three movies will return to DVD as 2-disc DVD set on October 7 for $26.98 each. No high definition version have been announced for these films.