The Love Guru makes his debut this fall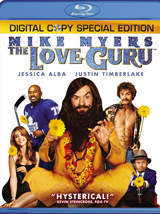 Paramount Home Entertainment has just unveiled plans to release the latest Mike Meyers comedy The Love Guru on DVD and Blu-Ray Disc this fall.
Mike Myers plays the hilarious character The Guru Pitka! As The Guru Pitka vies for the title of the world's best self help guru, Pitka must help a star hockey player win his wife back from rival athlete Jacques "Le Coq" Grande (Justin Timberlake) and, along with it, the Stanley Cup. Will Pitka's comic karmic intervention be enough to turn this losing team into champions?
The DVD Version will come in two configurations, one with and one without a digital copy of the film. Both versions will include Deleted And Extended Scenes as well as Bloopers and three Featurettes on the making of the movie. The releases will be rounded out by Outtakes.
The Blu-Ray version will contain all the same extras but come with a 1080p high definition transfer, of course, and feature Dolby Digital TrueHD audio tracks in English, French and Spanish.
"The Love Guru" can work for you too, starting September 16 for $29.99 or $34.99 with the digital copy. The Blu-Ray version will carry a $39.99 sticker price.